Our program
Do you know of any talented youngsters in your school or organization who are from socio-economically underprivileged backgrounds? Youngsters whom you think have the potential and motivation to complete a degree or other higher education course? Would you like to help them achieve their dream?
The aim of the Boost program is to offer such youngsters every opportunity to build their future with confidence and ambition. How? By providing them, as of the fourth year of education school and throughout a minimum of 6 years, the coaching, opportunities and means necessary to achieve this.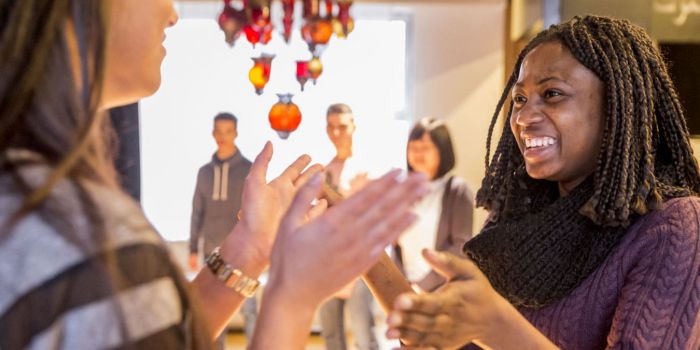 Our selection criteria
The pupil's needs
The pupil's needs
The candidate comes from a (very) socio-economically underprivileged background.
His school results
His school results
The candidate has good school results.
His motivation
His motivation
The candidate is willing to engage in a program that lasts a minimum of 6 years.
His potential to progress
His potential to progress
The youngster wants to discover and develop his/her talents.
His personal ambitions
His personal ambitions
The candidate has the willpower and wish to succeed and get a degree or other higher education certificate.
Our selection procedure
1
Call for applications publicized in schools and youth organisations
2
Introduction of application forms
3
Preselection by the Boost team
4
Individual interviews with the members of a jury for those candidates pre-selected and deliberation
Send us your recommendations!
Are you convinced? Then fill in, with your candidate(s) the online application form. We'll get back to you very quickly.
Would you like a presentation about the Boost program to be given to your school?
Contact us
Call for applications is open for
Liège, Mons and La Louvière.
Candidates can submit their application before 30 August for Liège, 2 October for Mons and 25 October for La Louvière.
Via an online form
By downloading the application file *
* This link also contains the information documents for the candidate and his parents. It is important to read these documents before applying.
The completed document must be send by email to
[email protected]
or by post to Boost – King Baudouin Foundation, Brederode street 21, 1000 Brussels