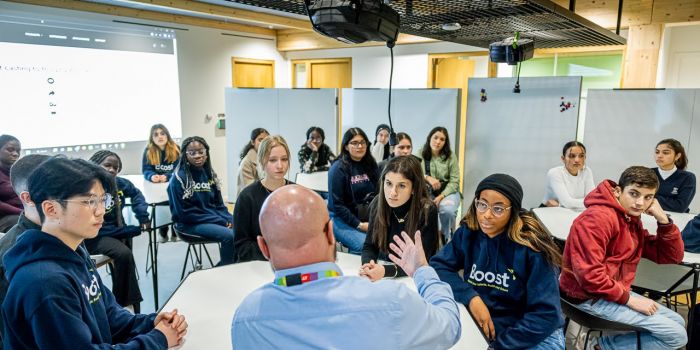 Our
partners
What enriches Boost is the mobilisation of the many people and organisations that work alongside our young Boosters. They each make a significant contribution.
The King Baudouin Foundation
Over 150 young people supported in Brussels
Launch of Boost Brussels, in 2011
The King Baudouin Foundation's mission is to contribute to a better society. The Foundation is an actor for change and innovation, serving the public interest and increasing social cohesion in Belgium and Europe. The Foundation seeks to maximize its impact by strengthening the capacity of organizations and individuals. It also stimulates effective philanthropy by individuals and corporations.
The Foundation's current areas of activity are poverty and social justice, philanthropy, health, civic engagement, developing talents, democracy, European engagement, heritage, development cooperation and sustainable development in Africa and developing countries.
Concerned by the obstacles that all too often face talented youngsters from underprivileged backgrounds, in 2011 the King Baudouin Foundation decided to launch the Boost program in Brussels. Today, the Foundation is responsible for the central coordination of the program and its various local variants and it continues to support Boost Brussels.
Like to find out more?

The Sofina Boël Fund for Education and Talent
Almost 200 youngsters supported in Liege and Antwerp and launch in La Louvière in 2019
Initiator of the deployment of the program in other cities from 2012
Created by descendants of Gustave Boël and the Sofina Holding and managed by the King Baudouin Foundation, the aim of the Fund is to support the education and training of talented young people in Belgium by awarding individual grants and providing support to other organisations with similar objectives.
As much at a human level as materially, the mission of the Sofina Boël Fund for Education and Talent is to offer talented youngsters further training opportunities in a number of fields. In particular, it aims to focus on the transition from secondary to higher education for talented pupils from underprivileged backgrounds.
In 2012, the Sofina Boël Fund for Education and Talent decided to launch and develop the Boost for Talents program of excellence in Liege and Antwerp. It is thanks to this partnership that the program, which initially existed only in Brussels, was able to be successfully developed in other cities. The Fund's vision has enriched the entire Boost program. To date, over 200 young people have been supported by the Fund in Liege and Antwerp.
Spurred on by the program's success in Liege and Antwerp, in 2018 the Sofina Boël Fund for Education and Talent decided to extend development of Boost for Talents to other cities. In 2019, La Louvière is joining the Boost for Talents network.
Like to find out more?
Our partners
Thanks to several privileged partners, young people in other cities are benefitting from the Boost program. We are extremely grateful for their support. Together we are working to develop the program and increase its impact. A number of specific local contributions are made by each of these partners.
Our thanks go to all the other donors and organisations that support the Boost program in various ways, such as through language courses, fund-raising for our project, individual support, event sponsoring and so on.