Interested in supporting Boost?
Become one of our partners
What is Boost?
Our country is full of talented and motivated young people. In fact, at Boost, we think that every young person has talent and that everything becomes possible when a youngster realizes he or she has potential and that dreams can become a reality. It is our young Boosters who do the most important work in our program.
Their determination to succeed in life is the key to their success. Nevertheless, each one of these young people needs support, advice, a real "Boost" in life. And that's precisely what our team sets out to do, with passion and commitment. And our precious partners make all of this possible.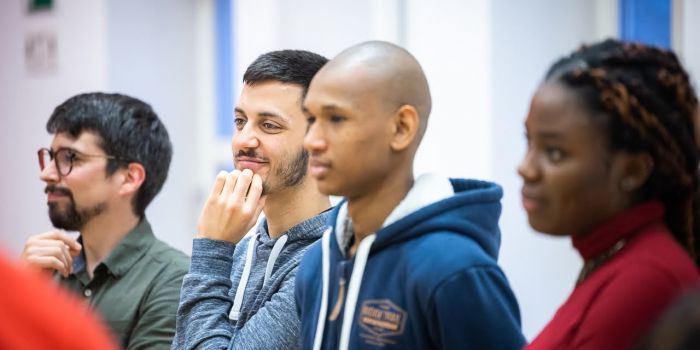 There's more than one way to support Boost!
Financial partner
Financial partner
As a financial partner, you will be working structurally with our other Boost partners, in order to support more and more youngsters, in more and more cities and by contributing to the program's development.
Sponsor
Sponsor
Several options are open to you here: you can make a donation, conduct fund-raising, organise an event on behalf of Boost, etc.
Skills partner
Skills partner
As a skills partner, you make your own skills and experience (or those of your colleagues) available in a meaningful one-off project or in a more structural manner. Skills can include advice, consultancy and communication, etc.
Mentor
Mentor
As a mentor you will devote your time to one particular Booster. You will monitor this Booster throughout his academic path, advising, supporting and motivating. You will make your address book of contacts available, share your experience and provide opportunities for the Booster to share his passions and activities. Such shared experience is as rewarding for the mentor as it is for the Booster.
Ambassador
Ambassador
Are you a teacher or head teacher in secondary school, or a trainer in a youth organisation? If so, you can play the role of ambassador in your school or organisation and recommend some of your young people to the Boost program.
Service provider
Service provider
If you are a service provider, then you may like to offer your services and expertise to Boost, free of charge or at a preferential rate.
Infrastructure owner
Infrastructure owner
If you are an infrastructure owner, you can make some of your space available to young Boosters for workshops, events, meetings or for study rooms during exam time.
Volunteer
Volunteer
As a volunteer you can give your time to support the Boost team, either occasionally or in a more structured manner.
Public sector partner
Public sector partner
You can strengthen the Boost positioning locally. You can also make rooms or halls available for us and put us in contact with local actors who could play an important role in the development of the Boost program.
Let's Boost our young talents together!
Convinced? Then contact us and let's see together how we can work together on the Boost project.
Contact us!